Burdwan A. P. C. Roy Private Industrial Training Institute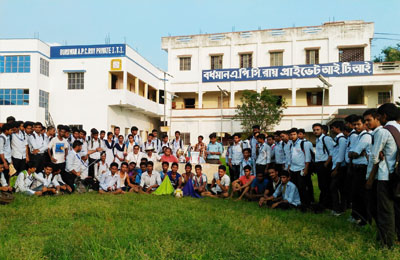 Introduction of the Institute
NAME OF THE INSTITUTE
ADDRESS OF THE INSTITUTE
DATE OF ESTABLISHMENT
DGET FILE REF. NO:
CODE ALLOTTED BY DGET
CONTACT Nos.
MOBILE NO
FAX NO
E MAIL ID
LOCATION- RURAL/ URBAN
APPROACH/ HOW TO REACH
BURDWAN A. P. C. ROY PRIVATE INDUSTRIAL TRAINING INSTITUTE.
Vill.- Malkita, P.O.- VITA, P.S.- DEWANDIGHI THANA, DIST.- PURBA BARDHAMAN, PIN.- 713102
25-09-2012.
DGET-6/25/20/2012 TC.
DGET-6/25/20/2012 TC.
0342 2622417 9332006808
9775727924 9434002572
info@apcroyiti.com director@apcroyiti.com
URBAN
TO REACH THE INSTITUTE TRAVEL FROM BURDWAN JN. RAILWAY STATION TO KAMNARA- PIRTALA B.D.O. OFFICE BUS STOP BY BURDWAN - KATWA ROOT BUS OR TO KAMNARA RAILWAY STATION BY BURDWAN -KATWA TRAIN AND THEN WALK 10 MINUTES TOWORDS MALKITA VILLAGE .